HP Communications, Inc. ("HP") is a full turnkey OSP/ISP contractor founded in 1998. We strive for excellence in everything we do. We stay current with the latest and greatest products and training to incorporate new technologies as they develop, thereby responding quickly to our customers' demands and needs. HP has established strong relationships with service providers and product manufacturers throughout the nation, striving to offer our customers and employees the latest innovations available. With 14 operation centers across the U.S and a team of around 700 in-house employees, HP dedicates itself to giving our customers complete satisfaction. Every employee holds true to HP's core and unshakable values of Brotherhood, Service, and Excellence.
"The pursuit of excellence is at the core of everything we do at HP Communications."
HP has a growing workforce of over 700 in-house team members. Our Team is highly skilled, trained, and knowledgeable in all aspects of telecommunications. Below are all the in-house services HP offers.
20 Years of Service.
2019 "We are stronger together than we are alone." – Walter Payton
Thank you to all the HP Eagles for your hard work and dedication.
HP Program Management Expands to Six Program Managers.
Based in Corona, CA, Programs' responsibilities include ensuring our clients get the same high level of service across HP's Ops Centers. This includes overseeing client reporting, hosting project deployment meetings, ensuring data integrity, internal database management/oversight, new project set up, and prioritizing construction schedules.
HP Communications Awarded 76 miles of Fiber to the Home Construction in Rancho Santa Fe California.
HP was awarded a turnkey construction project that will bring fiber to approximately 1,500 homes in Rancho Santa Fe. The project will consist of 392,037 feet of new underground construction, fiber placement, aerial construction, and fiber splicing.
HP Communications awarded 344 miles for fiber network construction in the Montclair area.
HP was awarded a turnkey construction project that will cover 12 Cities in the eastern Inland Empire Region of Southern California. This project will include full-project engineering, new aerial construction, new underground construction as well as fiber placing, blowing and splicing.
HP Communications relocated the Los Angeles Yard.
With our project growth and crew expansion we relocated to Commerce, CA gaining an additional acre of space while increasing our office and covered warehouse space by 50%. We continue to build large scale turnkey communication infrastructure systems throughout LA County.
HP Texas is excited for 2019!
Our Houston location was awarded 169 new CO-LO sites to kick off the new year. Our Dallas location will be kicking off over 350 miles of long-haul fiber pulling and blowing from El Paso, TX to Riverside, CA and over 500 pole placements in the Dallas/Ft. Worth area.
HP Communications Growth in the Florida Market.
Our Florida team was awarded the TMO 2000 project, picking up 1000 sites in which HP is also providing program management. We are excited for the 2019 year working direct with our customers on small cell deployment across the state of Florida.
HP Communications awarded multiple turnkey networks including DC line Power in Multiple Cities for the TMO 360 in the Bay Area.
These are the first major DAS networks to hit the market utilizing the DC Line Power. TMO 360 will also include 65 miles on new aerial, underground and node construction. The 65 miles is made up of the following cities; San Leandro, Oakland, Concord, San Francisco, Daly City, Richmond, Hunters Point, and Hayward.
HP Communications awarded thousands of drops in Northern California.
HP has been awarded a major contract to place thousands of drops over the next few years. HP Communications will be working in Sacramento, San Francisco, San Jose, Concord, Fresno, Reno, Modesto, and Santa Rosa.
New opportunities in Nevada.
HP has extended its reach from California into Nevada where we have started on some new projects in 2019. We are excited to back in Nevada and hope to continue working in the Silver State in the coming years.
CONNECT WITH HP COMMUNICATIONS
Red States indicate states where HP Communications has current offices and/or yard locations. Click Red states to view details.
Blue States indicate where HP Communications has previously performed work.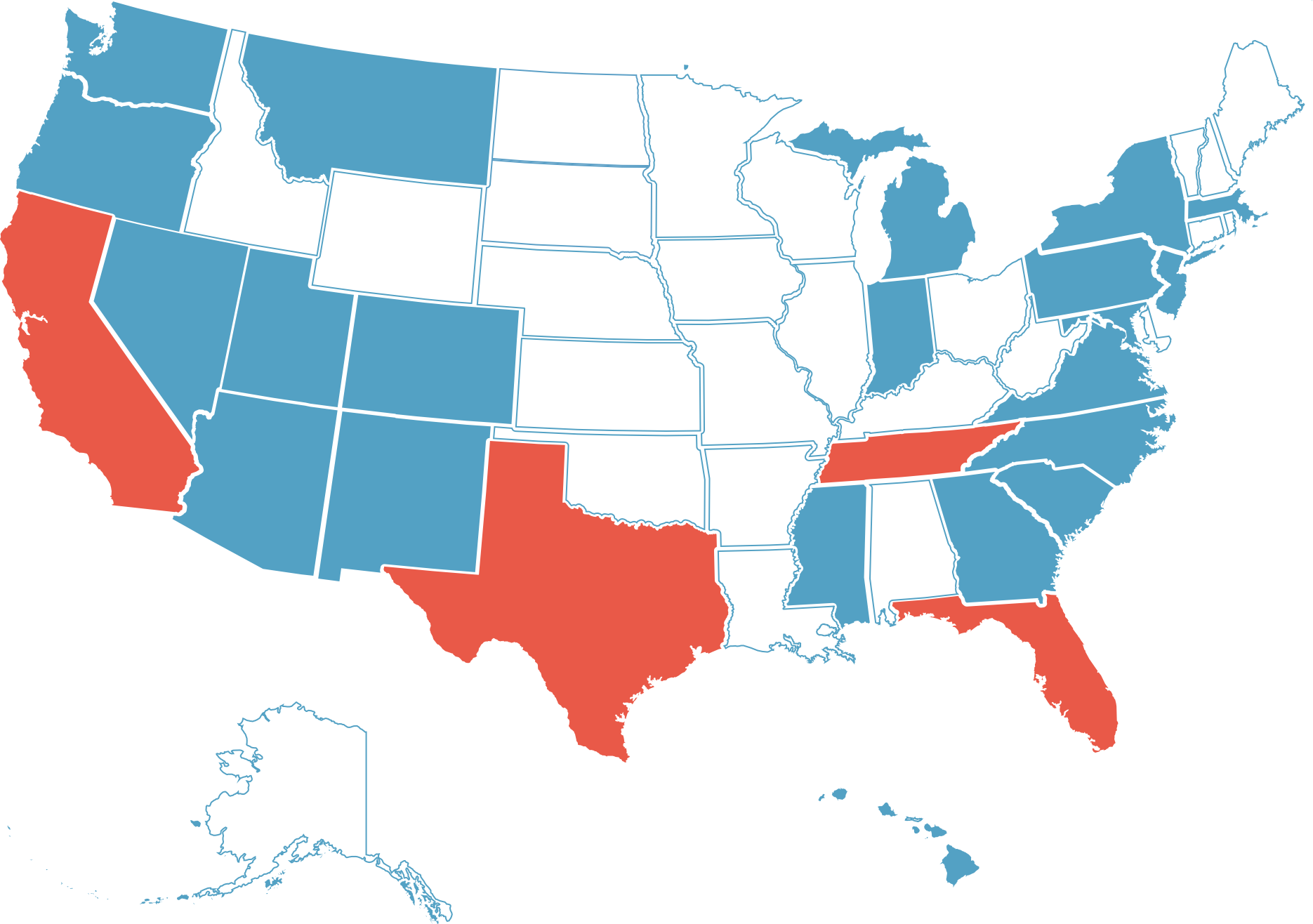 California Region
CALIFORNIA
LOS ANGELES
Commerce, CA
Regional Director of Operations - Dameion Saputo
Area Manager - Ralph Ochoa
SOUTH LA
Gardena, CA
Regional Director of Operations - Dameion Saputo
Area Manager - Daniel Gonzalez
ORANGE COUNTY
Santa Ana, CA
Regional Director of Operations - Dameion Saputo
Area Manager – Brad Ritchie
INLAND EMPIRE
Fontana/Phelan, CA
Regional Director of Operations - Dameion Saputo
Area Manager - Nate Jones
SAN DIEGO
El Cajon & Rancho Santa Fe, CA
Regional Director of Operations - Dameion Saputo
Area Manager - Dustin Walters
BAY AREA
Union City, CA
Regional Director of Operations – John Lucas
Area Manager - Tobias Anderson
SACRAMENTO
Regional Director of Operations – John Lucas
Project Manager – Jeff Snow
PROGRAM MANAGEMENT
Corona, CA
Program Manager – Zack Baayen
ENGINEERING
Corona, CA
Engineering Area Manager – Joseph Gonzales
FABRICATION
Corona, CA
Director of Support Services - Don Bailey
Fabrication Manager - Dave Ladner
Tennesee Region
TENNESSEE
Regional Director of Operations - Chris Dotinga
Construction Manager – Chris Magee
Construction Manager – Vince Wright
Texas Region
TEXAS
Mansfield, TX
Regional Director of Operations - Wais Olomi
Area Manager - Hugo Minero
Houston, TX
Regional Director of Operations - Wais Olomi
Project Manager - JJ Olomi
Florida Region
FLORIDA
Port St. Lucie, FL
Regional Director of Operations - Chris Dotinga
Project Manager - Kris Deleon